MILES APART, RUNNING TOGETHER
Hello and welcome to iRace. We've teamed up with RaceMap and our other companies ChipTimingUK and GPS Event Tracking, to bring you a safe and enjoyable race day experience that helps develop that community and competitive feeling again. We see this as our first step to helping us all race again at the same time whilst following social distancing guidelines.
​
With races scheduled for 5K,10K and Half-Marathon distances there's a challenge for everyone. You can compete with your friends, local runners and other athletes from all across the UK.
​
We will be hosting races on a live interactive map at 10am on Sundays and 7pm on Wednesdays. All runners must run with a sports watch, a phone or both to track their performance and receive a time.
​
EVERY WEDNESDAY AT 7PM
​
EVERY SUNDAY AT 10AM
​
SUNDAY 5TH JULY
​
iRace Live Virtual 10km
​
(as featured in Athletics Weekly)
The big one. We aim to get some of the UK's top runners involved
​
Register for free online and pay for races in Merchandise
Entries close 2 hours before race start
Go directly to your Active account, pay for more races in Merchandise. Check races in registration
Entries close 2 hours before race start
Register for iRACE

Set your sport tracker ready to track

Alternatively, download the Racemap app and set ready for live tracking - please see event information below

Be on your start line ready to go at the specific race time

Race the Distance - we suggest going slightly over to ensure it is recorded

Upload a GPX, KML or TCX file directly to the Leader Board - leader board is a bit of fun and it is not the verified final results. Upload your file below or HERE

Alternatively, use the Racemap App for live tracking and results - this will require you to run with your phone. (Please see advice on live tracking)

If you would rather, you can send a screenshot and your time to results@chiptiminguk.co.uk

You have 8 hours after the start time to submit your file or times

Final results and e-certificate will be available to view at www.chiptiminguk.co.uk 12 hours after the start of the race.
​
SAFETY FIRST
​
There are no prizes for winning as this is still a bit of fun. Keeping safe is what matters most. Therefore please abide by the Highway Code when running on the roads and be respectful of others and social distancing.
​
​
RACE ROUTE
---
You choose the route. we suggest you run slightly over the set distance to ensure you get the sufficient distance recorded. Please abide by the Highway code or the countryside code depending on where you are running.
---
LOCATION
---
You choose the start line and run the required distance. We suggest running slightly over the distance to ensure all devices record it.
---
PHONE TRACKING INFORMATION
---
Download the the Racemap app.
The app can be download from-
Appstore - https://apps.apple.com/ie/app/racemap/id640797527
Playstore - https://play.google.com/store/apps/details?id=racemap.de
Please then follow the link emailed to you activate and register yourself for online tracking.
Alternatively find the race you are registered for in the list of events on the Racemap App.
and nsert your individual key that has been emailed to you.
Race Day.
15 minutes before race start open the Racemap App and hit live tracking. The big green button.
To see if you are live on the map click the watch now button. Then put your name in search bar, if your name is a dark colour you are online. If our name is greyed out please check the following, -
Ensure you have cell coverage where you are.
Ensure your location services are on. (This can be done in settings).
If this is all good come out of the App and refresh and try again.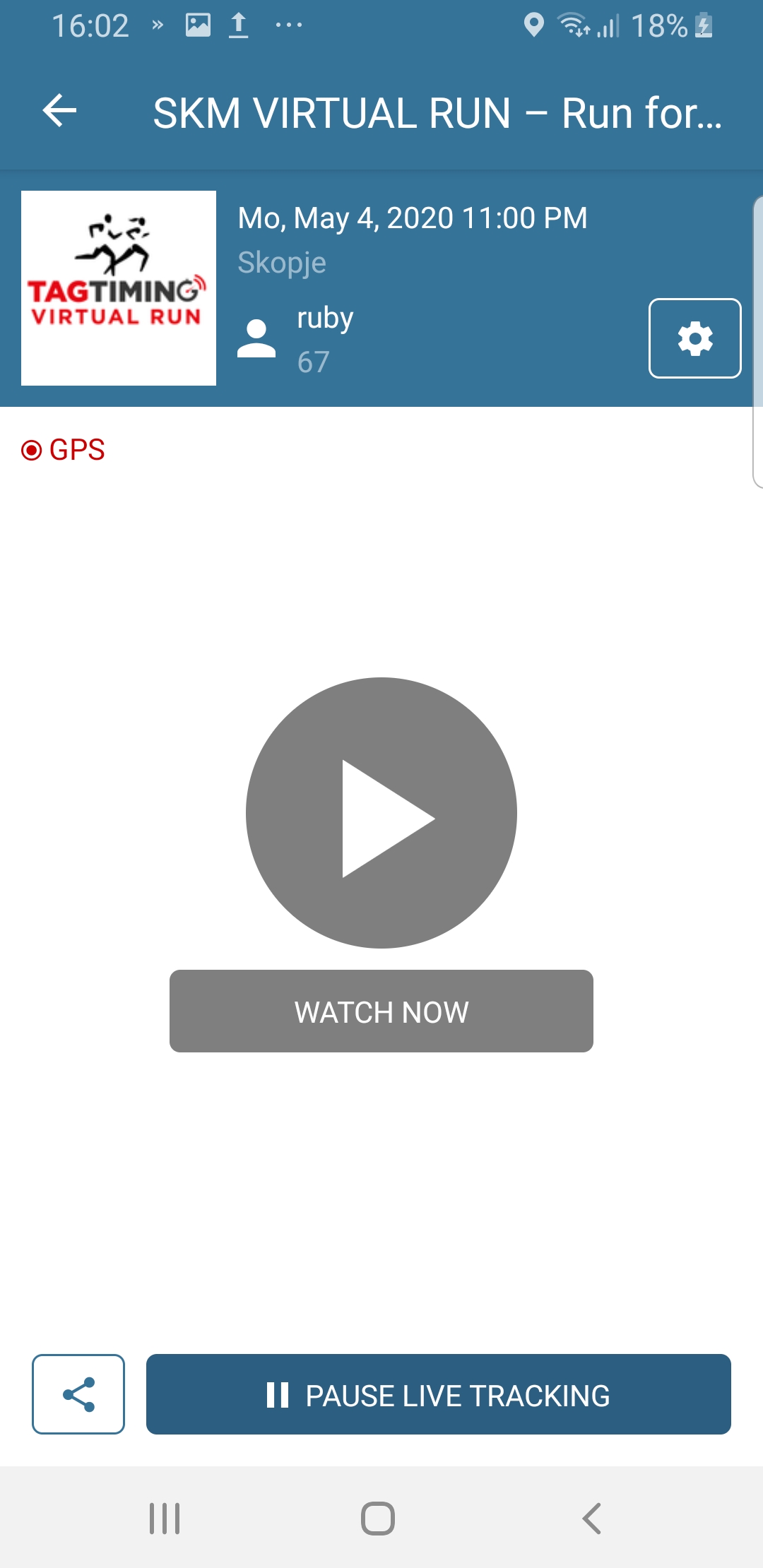 Your name should be highlighted in dark as can been seen at the bottom for the name Ruby.
If all is good, please stow your phone safely on your person and go for a run.
For a back up for the first few goes we do advise that you set your sports watch as well as this can be uploaded after the event. You then still appear on the leader board and the map for replays of the event.
The event can always be viewed at http://www.chiptiminguk.co.uk/
---
UPLOADING OF GPX, KML OR TCX FILES
---
We recommend that you run with a sports watch or a phone with a sports app that is just using GPS and is not relying on a solid phone signal. This data can then be uploaded here, https://racemap.com/upload
---
KEY INFORMATION
---
All events start at a specific time and run for the duration of the race.
For example, a race may start at 10am, that is the official start time and you should be on your start line at that time ready to go.
Your total race time goes from 10am until the specific distance is complete. The time is based on elapsed time (not moving time), therefore any stopping for toilets or drinks will be included in your race time, just like race day. (we will accommodate some leniency on start times if required)
Competitors can then upload a GPX, KML, ot TCX file as soon as they finished their 5k.
We always suggest running with a GPS tracking app or sportswatch as these do not require a solid phone signal.
Alternatively or as well as, competitors can be tracked using the Racemap app on their phones (this does require a good phone signal at all times). If neither of these options work for you, please send a screenshot and time to results@chiptiminguk.co.uk
All maps and results get automatically updated to the leader board available at www.chiptiminguk.co.uk, where certificates can be printed out once times are verified. This will be 12 hours after the start of the event.
---
ADDING MANUAL TIMES AND SCREENSHOTS
---
Please email time and screenshot of elapsed time to results@chiptiminguk.co.uk Ensure it has elapsed time on screenshot.
---
TOP TIPS FOR LIVE TRACKING
---
Run in a good signal area.

Stay on public roads as much as possible.
Check phone for live tracking prior to setting off.
Ensure your phone is fully charged.
---
---
How do you help to keep social distance?
---
We will firstly limit the number of runners with in a postcode to ensure we do not have to many people running in a small location. We ask that everyone respects everyone else who may be out on the streets and gives everyone the recommended space. Smile at others and give a wave as you maybe on the same journey.
---
How do i know my race number?
---
Your Race Number will be emailed to you along with your Racemap key.
---
How do i know my race key for the Racemap App?
---
Your key will be emailed to you before race day? If you do not receive this before race day email info@inspireraces.co.uk
---
Can I swap my place with a friend?
---
We unfortunately can not do transfers due to the pop up nature of teh events?
---
My phone does not continue to track?
---
Do to the nature of the live tracking, it requires a good phonee signal for the duration of the event. We therfore suggest using a sports tracker as this only requires GPS and then a file can be uploaded at https://racemap.com/upload.
---
How do i activate live tracking?
---
Please see the live tracking info?
---
When will official results be available?
---
official individual and Team results will be published at .http://www.chiptiminguk.co.uk 12 hours after race start time. Therefore all results need to be in with 8 hours of start time.
---
Is there a cut-off time for your events?
---
Currently the cut off time is 1hour as per Government guidelines.
---
My Racemap tracking time is different to my sports tracker?
---
We like to feel that this is more like race day therefore we are working on a time elapsed Sports trackers tend to use time moving compared to time elapsed. Please upload you tracker details and another difference will be clear on the App.
---
What if I am late to the start line?
---
The tracker and App will start take your fastest time within teh time frame. Therefore if you start late and complete within the time frame you will get a results. For example a 5k will start at 10am and finish at 11.30am. therefore you need to run your distance within this time frame.
---
I want to run with a family member that does not have a sports tracker/phone?
---
Please upload the same GPX as you use for the person you are running with. A GPX file can be downloaded from the leaderboard.
---
Why do I have two times on the leader board
---
This can happen when you have upload times and tracked times. Once verified your fastest time will be taken and only this will show.
---
Why is there no medal?
---
Currently Inspire Races Staff are trying minimise the amount of contact we have with others. Therefore posting medals is difficult for us at this time.
---
Will there be an award ceremony?
---
Not at this time.
---
How can I see who is running and where they are?
---
If the person you are looking to watch is using the live tracking you will be able to view them via the Racemap App and chossing the event in question. Alternatively you can go to http://www.chiptiminguk.co.uk/ and view the map.
---
---